Hospital Projects
Pakistan is a thickly populated country and the available medical facilities do not suffice the needs of 200 million people. Hence there is a recurrent need for outclass medical and surgical units to provide affordable but outstanding treatment to the poor to serve the cause, Mumtaz Bakhtawar Hospitals were envisioned by Mr. lshaq Malik (Late), the elder brother and materialzed by (Late) Mr. Muhammad Shafi Malik Sitara-l-lmtiaz, with the co-operation, far sightedness, love and affection of his wife Mumtaz Begum
The hospitals were designed by an excellent team of experts from the fields of both medicine and architecture. The facilities have been planned as centers of excellence, equipped and operated to the highest international standards.
State of the Art Facilities
General Surgery
Obstetrics and gynecology
Dentistry
Medical
Orthopaedic
Ophthalmology
Radiology and Ultrasonography
Emergency
Laboratory
Anesthesia
Family Planning
Mobile medical squad
Camps for diabetics, Hepatitis B & C and liver patients are regularly set up for free check
Physiotherapy.
Mr. Muhammad Ishaq Malik was from a prominent Arain family of Pakistan and born in Mozang, Lahore. His brother-in-law Mian Feroz-ud-Din had proposed the title " Quad-e-Azam" to Mr. Muhammad Ali Jinnah, the founder of Pakistan and was his close ally. Since the very banging the family was humbly associated to the cause of patriotism.
Mr. Muhammad Ishaq Malik was also blessed with sense of charity and community service from the start. In 1947, million of deprived and homeless Muslims were migrating to Pakistan and needed help of those who could afford. The sprit of Ansar-e-Madina was carried out by a lot of softhearted Pakistanis and Mr. Muhammad Ishaq Malik belonged to the same group of generous Muslims. The people who were migrating had no homes; they were crossing the border and losing lives of their loved ones. At this time of need Mr. Muhammad Ishaq Malik pledged to serve the people with every possible resource he could involve. He was a wealthy man and was a renowned transporter. He not just arranged boarding and lodging for refugees but also used his personal Cessna Airplane to drop food and supplies to those who needed it. The sole purpose of his life at that moment was to serve his countrymen through every possible means. It was the spirit of sacrifice, which carried on every later. The misery of the people who had migrated continued to be a burden for them and for the government for a long period of time. This unfortunate demise pushed Mr. Muhammad Ishaq Malik, to decide to build a hospital for the people and then proposed the idea to his brother Mr. Muhammad Shafi Malik ( Sitara-I-Imtiaz ) to carry this idea in joint effort. Unfortunately he could not live long and this task of charity was carried out later on by Mr. Muhammad Shafi Malik ( Sitara-i-Imtiaz ) and the dream was accomplished by the younger brother. On the occasion of Shimal Conference Mr. Muhammad Shafi Malik participated in savaging the life of Quaid-e-Azam by lending support to his falling rickshaw. He was the man advised by the Quaid to carry out the tasks of charity, pledged this meticulous task till today and Mumtaz Bakhtawar is the proud announcement of the promise.
Mumtaz Bakhtawar Hospital-I :
Started as a dispensary in 1975, due to the honesty of purpose and commitment, it took the form of the first full-fledged hospital at Wahdat Road Lahore. Mulana Abdul Rehman inaugurated Mumtaz Bakhtawar Memorial Trust hospital Old Block in 1975.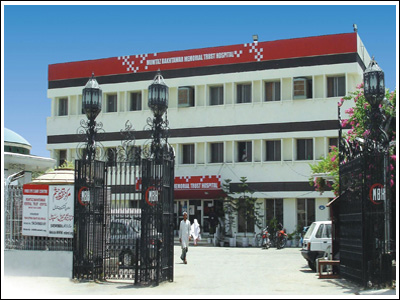 Mumtaz Bakhtawar Hospital
-II :

The dire need for having a hospital on Raiwind Road was being felt for a long time. Neither the Government nor any NGO thought of providing the basic health facilities in the newly emerging suburbs and surrounding 34 villages besides 93 industrial Units situated on Raiwind Road.